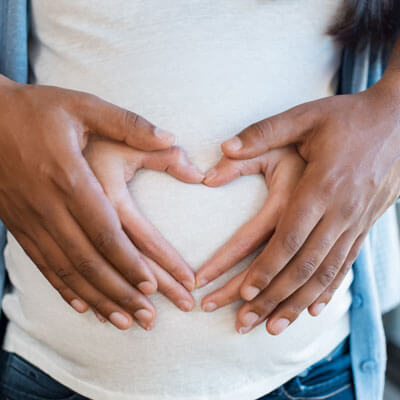 Pregnancy Chiropractor in Frisco TX
At Venn Chiropractic and Wellness Center, we want to help you have the healthiest pregnancy possible for yourself and your new baby.
How Can Prenatal Chiropractic Care Help Pregnant Moms?
Chiropractic care for expectant mothers can help make sure your body is ready for the birthing process. This can include:
Helping your baby get in the best position for birth
Reduce common aches and pains associated with pregnancy
Reduce low back pain and acid reflux
Ensure proper hip and pelvis position
Chiropractic Care for Newborns
After you give birth, we recommend babies visit us for their first adjustment as soon as possible. Don't worry—we use the gentlest touch when adjusting your child, so much so that they often sleep right through it. There is absolutely no popping or cracking sound. Because the birthing process can often be traumatic for newborns, getting their spine checked can help remove interference that has developed to make way for a healthy, happy baby.
As prenatal chiropractors, we've seen many mothers visit us in the weeks and months after birth who haven't been able to get a good night of sleep due to their crying infant. One of our favorite parts about adjusting babies is when a non-stop crying baby finally calms down—sometimes after just a few adjustments and other times on the very first visit. Needless to say, this is always a big help for new moms and dads!
Frequently Asked Questions
Is chiropractic care painful for pregnant women?
No! In fact, many of our pregnant patients look forward to seeing us each week because we're here to relieve their pain and offer a brief moment of relaxation and comfort. It's our goal that you feel better leaving our practice than you did when you walked in. Your adjustments will be extremely gentle.
How often will I need to visit you for an adjustment during pregnancy?
When we see you initially, we'll discuss a carefully crafted care plan to achieve your goals and help keep your body balanced throughout the length of your pregnancy. Initially, we may see you less, and then have you visit more frequently as your pregnancy progresses and pain becomes more prominent with your growing and shifting physique. Please remember that care is always entirely up to you—we'll simply make the best recommendations.
Is chiropractic for pregnant women safe?
When we perform adjustments on pregnant women, we will never have to press anywhere near the abdomen—our focus will be on your spine and pelvis to help restore proper balance and symmetry to the area. This ensures the best function for your body and gives your baby optimal room to grow and move around.
Can I see you during my third trimester?
Absolutely. This is often the time when women feel the most 'pain' associated with pregnancy as their body is shifting and adjusting to the size of the baby. Sciatica is a common complaint that we hear, and we're happy to report that we've helped many women overcome this.
When should I start visiting a prenatal chiropractor during pregnancy?
You can start visiting our practice as soon or as late as you'd like. From the moment we see you, our goal will be to help bring balance to your spine and hips, which sets you up for a healthy pregnancy with minimal pain. If you're trying to get pregnant, we also invite you to book a visit so that we can help reduce the amount of stress your body is experiencing.
Book Your Appointment Today
If you're pregnant, consider how chiropractic care can help you have a smooth pregnancy and delivery. We'd love to speak with you about what our chiropractors can offer. Contact Venn Chiropractic and Wellness Center today to get started!
CONTACT US »

Pregnancy Chiropractor Frisco TX | (972) 668-9200